All in all, there are at least 20-40 species of lavender, all native to the Mediterranean (Southern Europe and Northern Africa) and the Middle East. Lavender belongs to the labiatae family which includes numerous aromatic plants that are suitable for the lands of Provence, thyme, rosemary, oregano, mint, etc. ...
The rod has a floral spike on the stem and each of its bluish calyx flowers carries cells rich in a very fragrant essential oil.
There are numerous varieties of lavender that have adapted to the Provençal climate, here we mention the two main ones: the Lavandula Spica or Aspic, also called large lavender, male lavender also known as large-leaved lavender (Lavandula latifolia); and the Lavandula vera, fine lavender or true lavender, also known under the name of officinalis for its therapeutic virtues and augustifolia for its narrow leaves.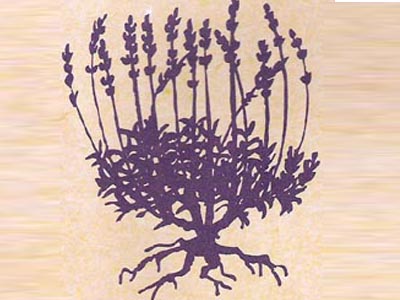 Lavender
Lavender or Lavandula Angustifolia is generally cultivated over 800 meters above sea level.
The real lavender is distinguished by its small tufts and short floral spike.
Its very delicate essential oil with a sweet and fine scent is sought after by perfumers and laboratories.
For external use it is an excellent antiseptic, it is healing, relaxing and calming.
For internal use on a cube of sugar or in a herbal tea helps against headaches, stomachaches and sore throats.
The lavandin
Lavandin is a naturally occurring hybrid between two lavender species: Lavandula angustifolia and Lavandula latifolia (a.k.a "Spike Lavender" - a pungent-smelling lavender native to Mediterranean Europe). Lavandin is especially known for producing a lot of essential oil The lavandin is a hybrid that results from the pollination of bees between real lavender and aspic or wild lavender.
It comes in the form of a very dense, ball-shaped tuft.
Its essential oil, stronger and more camphorized, is very effective in massages to relieve rheumatism and muscle pain and in inhalations for breathing difficulties.
Two words about aspic, it is also known as Lavandula Latifolia, it is found in wild form at low altitude (between 200 and 800 meters). Its wide leaves and floral stems with different spikes differentiate it from fine lavender.
The culture began to develop in the 19th century. The success of the French production of essential oil is mainly due to the founding and establishment of perfume production, perfume manufacturing and perfume research and development in the region of Grasse. After WW II, the 1950's saw an emerging, organized and systematic culture of lavandin.